The View
Introducing the Daily Loader for Mutual Fund Data, an innovative Salesforce AppExchange app designed to streamline your financial data management processes. Developed by a team of experts, this powerful tool seamlessly integrates with Inovestor to retrieve daily Mutual Fund Data and securely store it in the Financial Service Cloud Security Object.
Efficiency and accuracy are at the heart of the Daily Loader. With its automated data retrieval capabilities, you can say goodbye to manual data entry and time-consuming tasks. This app eliminates the need for repetitive and error-prone processes, allowing you to focus on what matters most—growing your business and serving your clients.
The Daily Loader effortlessly connects with Inovestor, a leading provider of Mutual Fund Data, ensuring reliable and up-to-date information is readily available in your Financial Service Cloud.
Stay ahead of the game with daily data updates. The app retrieves the latest Mutual Fund Data from Inovestor, ensuring your records are always current, empowering you to make informed decisions in real-time.
The Financial Service Cloud Security Object ensures the utmost security and privacy of your data. Rest assured knowing that your sensitive financial information is protected with industry-standard encryption and access controls.
Tailor the data mapping to fit your specific needs. The Daily Loader allows you to effortlessly map data fields from Inovestor to the Financial Service Cloud Security Object, ensuring seamless integration with your existing Salesforce ecosystem.
With a user-friendly interface, the Daily Loader is designed to be intuitive and straightforward, enabling easy configuration and setup. Experience a smooth and hassle-free onboarding process, ensuring minimal disruption to your daily operations.
By automating the data loading process, the Daily Loader significantly reduces the risk of manual errors, ensuring data accuracy and integrity. Say goodbye to tedious data entry and focus on utilizing accurate information to drive business growth.
Integration with Salesforce Financial Service Cloud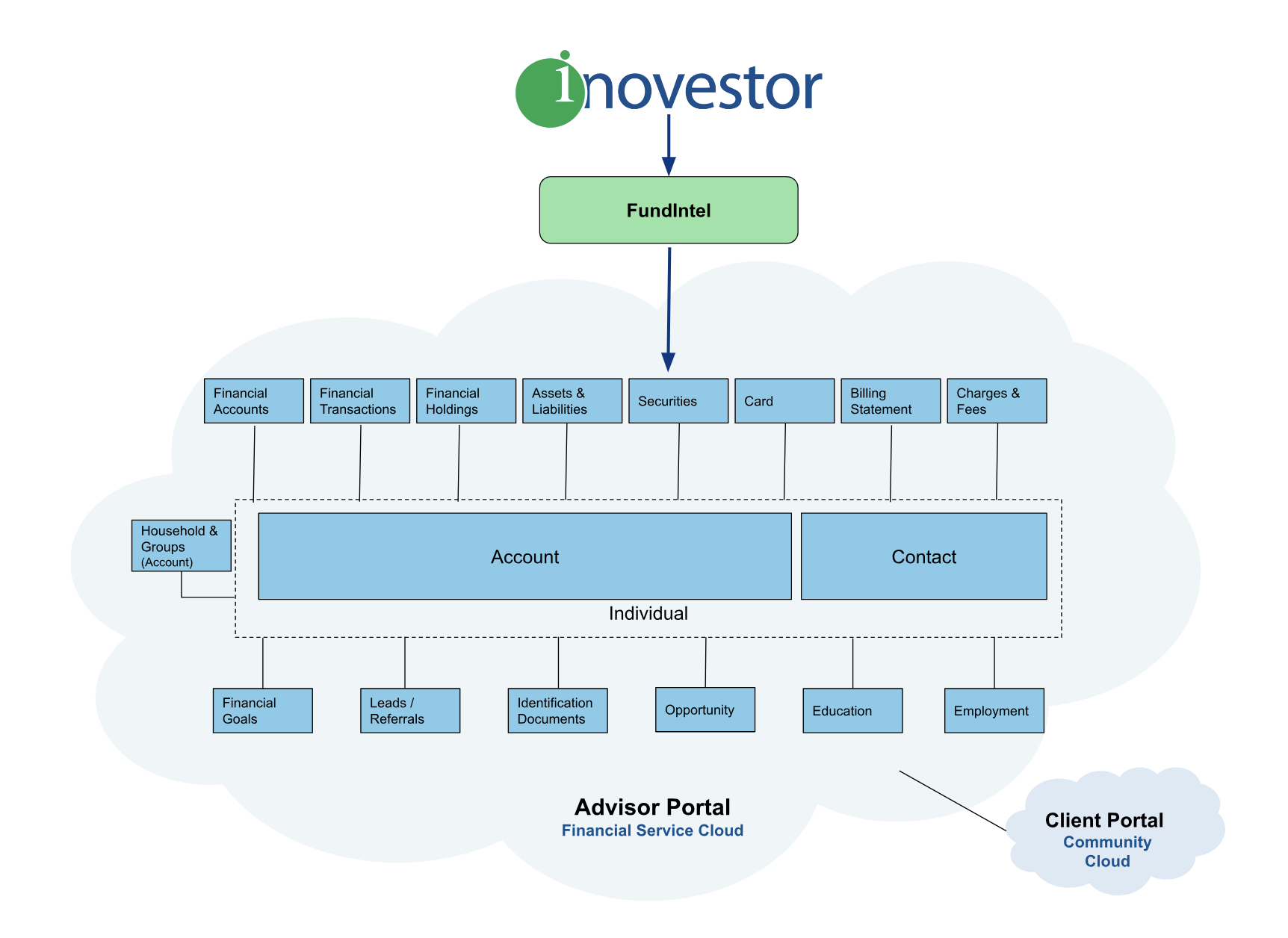 Unlock the full potential of your financial services with the Daily Loader for Mutual Fund Data. Say goodbye to time-consuming manual processes and hello to efficient data management. Seamlessly integrate Inovestor's Mutual Fund Data into Salesforce's Financial Service Cloud Security Object and make informed decisions faster than ever before. Get started today and experience the power of automation in optimizing your financial workflows.
Explore the full capabilities of FundIntel in a live environment. Click the link to access our page on the Salesforce AppExchange and hit the Test Drive button.
Salesforce and MuleSoft Partnership: As certified partners of Salesforce and MuleSoft, PSTOX has exclusive access to resources, tools, and advanced training, ensuring you receive the highest quality service.
Industry Specialists: With deep expertise in the financial sector, we tailor our Salesforce and MuleSoft integration solutions to align perfectly with your financial business needs.
Experienced Integration Experts: Our team boasts years of hands-on experience in delivering end-to-end Salesforce and MuleSoft solutions, from system design to implementation and support.
Custom and Secure Solutions: We provide customized solutions that not only meet your unique business requirements but also adhere to industry regulations and prioritize data security.
Long-Term Commitment: Our relationship extends beyond project delivery. We offer long-term support and maintenance, ensuring your systems are always optimized and efficient.

We shared with Pstox some of the technological challenges related to our transformation; their specialists have lived up to our expectations and produced a high level of quality deliverables
We worked with Pstox for several years.
The experience was a success factor. They delivered an excellent product to us.
They are a partner of choice for the realization of critical MuleSoft Projects. 
Pstox provides high-quality service in accordance with client expectations, deadlines and especially budgets!
Pstox first realized an audit, allowing us to understand the strengths and weaknesses of our MuleSoft environment…Additionally, PSTOX was also able to provide some relevant guidance, which helped us build a stronger foundation for our API management framework.