Exchange Rate Automatic Updater
The View
We are excited to introduce our simple currency exchange rate solution that aims to simplify and automate the process of staying up to date with currency fluctuations. Our app provides daily updates, email reports, customizable settings, and support for a wide range of currencies. 
Currency Exchange Rate Updates
Our app ensures that you always have access to the most recent currency exchange rates. It automatically updates the rates on a daily basis, keeping you informed about the latest market trends. With real-time data, you can make more accurate financial decisions and stay ahead of the curve.
In addition to the daily updates, our app also offers historical exchange rates. This feature allows you to track and analyze currency trends over time. By accessing Dated Exchange Rates, you can gain valuable insights into past fluctuations and make informed predictions for future currency movements.
Daily Email Update Reports
To make the process even more convenient, our app sends you a daily email report summarizing the currency exchange rate updates. This ensures that you receive the latest information directly in your inbox, saving you time and effort. Stay informed effortlessly, and never miss an important update.
We understand that different businesses have varying requirements. Our app allows you to set an extra spread percentage according to your preferences. This feature enables you to account for additional costs or fees associated with currency conversions, ensuring accurate calculations and better financial planning.
Our app supports a wide range of currencies, including AUD, CAD, EUR, GBP, CHF, DKK, HKD, JPY, NOK, NZD, SEK, SGD, USD, and ZAR. You can easily monitor the exchange rates for these currencies, whether you are engaged in global trade, managing international investments, or simply interested in currency markets.
Central Banks' Official Closing Rate
The currency exchange rates provided by our app are sourced from reputable and trusted central banks' official closing rates. By relying on authoritative data, you can have confidence in the accuracy and reliability of the information you receive.
Integration with Salesforce Financial Service Cloud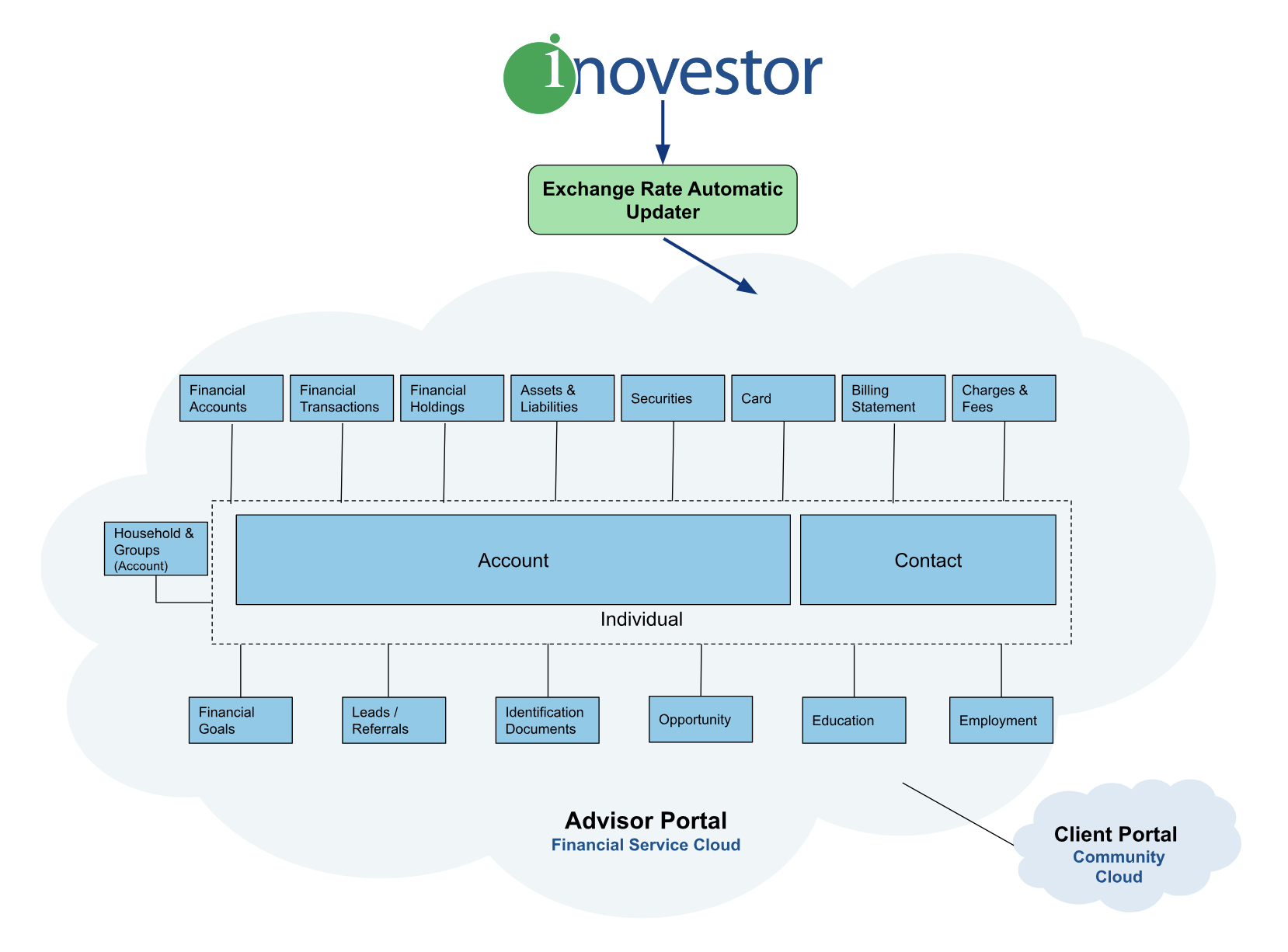 Developed by PSTOX Lab
Our Salesforce AppExchange product is developed by PSTOX Lab, a leading software development company committed to creating innovative solutions for financial and business needs. With our expertise in currency exchange rates and financial technology, we strive to deliver products that enhance your financial operations and decision-making processes.
We invite you to take advantage of our app and start optimizing your currency exchange rate management today. Stay informed, make smarter financial decisions, and streamline your international transactions with our Salesforce AppExchange product by PSTOX Lab.
Salesforce and MuleSoft Partnership: As certified partners of Salesforce and MuleSoft, PSTOX has exclusive access to resources, tools, and advanced training, ensuring you receive the highest quality service.
Industry Specialists: With deep expertise in the financial sector, we tailor our Salesforce and MuleSoft integration solutions to align perfectly with your financial business needs.
Experienced Integration Experts: Our team boasts years of hands-on experience in delivering end-to-end Salesforce and MuleSoft solutions, from system design to implementation and support.
Custom and Secure Solutions: We provide customized solutions that not only meet your unique business requirements but also adhere to industry regulations and prioritize data security.
Long-Term Commitment: Our relationship extends beyond project delivery. We offer long-term support and maintenance, ensuring your systems are always optimized and efficient.

We shared with Pstox some of the technological challenges related to our transformation; their specialists have lived up to our expectations and produced a high level of quality deliverables
We worked with Pstox for several years.
The experience was a success factor. They delivered an excellent product to us.
They are a partner of choice for the realization of critical MuleSoft Projects. 
Pstox provides high-quality service in accordance with client expectations, deadlines and especially budgets!
Pstox first realized an audit, allowing us to understand the strengths and weaknesses of our MuleSoft environment…Additionally, PSTOX was also able to provide some relevant guidance, which helped us build a stronger foundation for our API management framework.